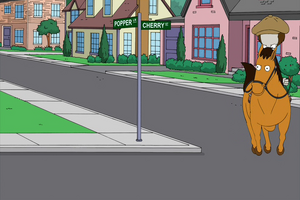 This is the first episode to air in 720p high-definition.
In May 2010, the FCC proposed a fine of $25,000 for a scene suggesting that Stan masturbated the horse, reporting that FOX failed to respond to its inquiry based on 100,000 complaints. [1]
While riding Stan's horse around the neighborhood, Roger passes the intersection of Cherry St. and Popper Ln.
Francine and Tuttle both refer to Al's wife as Betty in "Homeland Insecurity". In this episode, not only is Al been changed to Bob Tuttle, but Steve picks up a picture of Al next to his wife's tombstone which instead reads Lisa Tuttle.
When Stan drives his SUV after breakfast, Rakim's "Juice (Know the Ledge)" plays.
When Roger gets into the SUV to drive to the racetrack in his jockey outfit, he states that he has no testes.
Community content is available under
CC-BY-SA
unless otherwise noted.