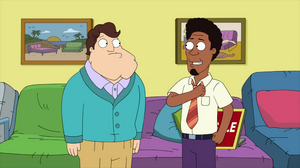 Delroy is the manager of Futon World.
When Francine tries to keep Stan away from his job at the CIA to keep him from remembering his true personality after she gives him a mental makeover in "The Boring Identity", she spots a "Help Wanted" sign at Futon World. Rushing in ahead of Stan, she begs Delroy to give Stan a job to keep his fake memories intact, a task he is quite agreeable too and even embellishes.
He later steers Stan towards an older Navajo woman when he leaves Francine for embarrassing him. When Stan regains his true memory, he avoids the family while continuing to work in commercials at Futon World.
Delroy is also seen at "Familyland" and on the bus in "Cock of the Sleepwalk".
He is part of Stan's election team when he runs for Mayor in "Railroaded", can be seen at the bodybuilding contest in "One-Woman Swole", attends Steve's lecture at Denise Richards Hall in "Brave N00b World" and works in the mailroom at Wagner Wright in "Businessly Brunette".
Delroy is voiced by Wayne Brady.
Community content is available under
CC-BY-SA
unless otherwise noted.