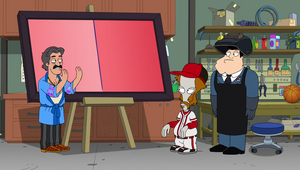 Del Monaco is Roger and Francine's cocaine dealer, as well as an art connoisseur.
When Stan sets out to burn a painting of Francine's vagina after stealing it from the Langley Falls Museum of Art, in "Portrait of Francine's Genitals", Roger convinces him to sell it to a private collector instead where it wouldn't be on public display. However, they are interrupted by Francine and he is told to get out while she rips into Stan. After she storms out, Del Monaco goes to see if he can sell her some drugs before he leaves.
When Francine and Jeff spend a night on the town together in "Wild Women Do", they bump into Del Monaco who takes them to meet his dry cleaner, Mr. Rick. Mr.Rick's behavior scares the pair but they find themselves unable to escape. After playing a round of 'hot potato' with a loaded gun, Mr. Rick shoots himself. Frightened of facing a murder charge since all of their fingerprints are on the gun, Del Monaco calls his 'Fichser' to clean things up, which turns out to only be one of Roger's personas who makes things worse. As the police approach, Del Monaco bolts from the scene, leaving Francine and Jeff behind.
Del Monaco is Roger's toady/"idea man" as he tries to write a jingle for Gene and Sue's Seafood Shack in "The Future is Borax". When Roger is displeased by a single note by a musician, Del Monaco suggests burning down the entire Kiowa Recording Studio and recording it.
Del Monaco is in the Las Vegas jail in "A Starboy is Born" and is shown in an emergency room after eating under cooked meat-ghetti and spag-balls in "Businessly Brunette".
Del Monaco is voiced by Andy Richter.
Community content is available under
CC-BY-SA
unless otherwise noted.