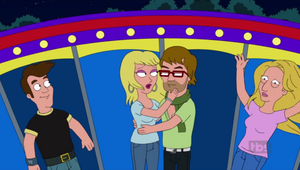 Danuta is a friend of Hayley's. Klaus later develops a crush on her.
In "Faking Bad", she and her friends Zooey and Kristen convince Steve to make them fake IDs. They show him their boobs when Hayley convinces them he is a real "Federal Boobie Inspector" based on his fake ID creation.
Danuta can also bee seen at Roger's Place in "Roger Passes the Bar", at Greg and Terry's party in "A Boy Named Michael", on DJ Iron Monkey's yacht in "Blonde Ambition", at the Langley Falls Roller Rink in "LGBSteve", at the Law & Order fest in "The Census of the Lambs" and outside of The Skylark in "Flavortown".
In "Shark?!", during a visit, Danuta tells Hayley she finds Klaus attractive. After being reassured that he isn't being pranked, Klaus excitedly encourages Hayley to set them up on a date, but when he calls her, he comes across as creepy. Hayley reluctantly agrees to make it a double date with Jergen to the county fair. But when he becomes completely insufferable in an attempt to win a prize for her, she ends up hooking up with Jergen. After nearly mistaking Hayley's concern for affection, he tosses the Munion aside where it tangles in the gears of the Gravitron ride, sending it spinning off of its base.
In "Eight Fires", she is in a cooking class that Francine and Klaus take.
She travels to Costa Rica in "One Fish, Two Fish", apparently after telling Klaus she was dead. She also appears to marry Memphis Stormfront at Stan's party "Businessly Brunette" and can be seen during "Everyone is Happy in Utopia" in "300".
Danuta was originally voiced by Anne Gregory. In later appearances, she is voiced by Nicole Shabtai.
Confirmed Appearances
Community content is available under
CC-BY-SA
unless otherwise noted.