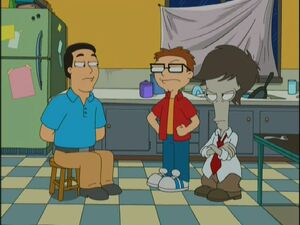 Danny is a med student at Georgetown University that Roger mistakes for Osama bin Laden in "Bush Comes to Dinner". Roger figures out a complex code and determines that Osama lives at 17 Lake Drive and works for MacMillan and Sachs Investments. However, when Roger and Steve arrive, it becomes obvious that Roger was wrong. However, the episode shows an epilogue of Osama using the name 'Bill' at MacMillen and Sachs had recently sold his house; apparently to Danny. In this appearance, Danny is voiced by Bobby Lee.
Danny can be seen at the Langley Courthouse during Stan's trial in "Meter Made" and in the Tokyo screening of Oscar Gold in "Tearjerker".
He stands next to Roger and Klaus at the Louvre admiring The Mona Lisa in "Red October Sky" and is in Chinatown in "Pulling Double Booty".
Danny attends the Langley County Fair in "Every Which Way But Lose" and watches the Chinese New Year parade in "Home Adrone". He also tends to the Phuket Bar in Thailand in "Son of Stan".
He eats at the title restaurant in "Stan's Food Restaurant". He also appears in the audience of Fits In the Hole in "White Rice", as one of the conventioneers in "Fartbreak Hotel" and in a restaurant in "Stanny-Boy and Frantastic".
Danny appears as a backstage engineer in "A Piñata Named Desire". He also joins the mob in chasing Roger in "Ricky Spanish" and welcomes "baby Franny" at the anniversary celebration in "National Treasure 4: Baby Franny: She's Doing Well: The Hole Story".
He is trapped by Roy Family in "Familyland", is seen outside of the Langley Falls Theater for the Steve's Homecoming Spectacular in "News Glance With Genevieve Vavance" and can be seen at the revamped "Roger's Spot" in "Roger Passes the Bar".
When Roger catches Qurchhhh's scent at the Langley Falls Shopping Mall in "Blagsnarst: A Love Story", Danny can be seen on the second level of the mall.
Danny attends the town council meeting for the new arena in "Roots", at the boat auction in "The Life Aquatic With Steve Smith" and operates a kiosk at Langley Commons in "The Dentist's Wife". His design is also used for a South Korean guard at the Daesong Shipyard in "Daesong Heavy Industries".
In "Bazooka Steve", he is seen outside of the Langley Falls Museum of Art and on the flight to Thailand in "The Bitchin' Race".
He is also present at Oedipus Rox in "Tapped Out".
Danny is part of the Korean audience that watches Tuttle in "Trophy Wife, Trophy Life". Here, Danny is voiced by Eddie Shin. He is also a passenger on the Dodge City Rambler in "The Last Ride of the Dodge City Rambler" and appears during "Everyone is Happy in Utopia" in "300".
He is a participant in the bed race in "Dancin' A-With My Cell" and attends Rogers second knife throwing show in "A Song of Knives and Fire".
Appearances