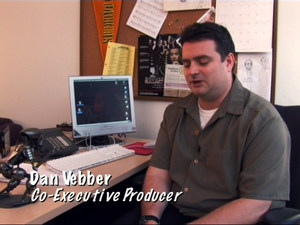 This article is about Dan Vebber the person. For the person character, see Dan Vebber (Character).
Dan Vebber is a writer, producer and story editor, known for his television work on animated shows such as Futurama, Daria and American Dad!. He was also a writer on Buffy the Vampire Slayer. After three seasons on American Dad, Vebber returned to Futurama. Vebber returned for Season 9 after five seasons absent.
In relation to American Dad!, Dan is owed the following credits:
Credits courtesy of the Internet Movie Database, for complete credits visit [1]
External Links
Community content is available under
CC-BY-SA
unless otherwise noted.