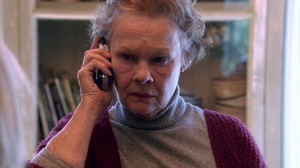 Dame Judith Olivia "Judi" Dench, CH, DBE, FRSA (born 9 December 1934) is a multi-award winning English film, stage and television actor. Over the following few years she played in several of Shakespeare's plays. She branched into film work, and won a BAFTA Award as Most Promising Newcomer. Not generally known as a singer, she drew strong reviews for her leading role in the musical Cabaret in 1968.
Steve calls Dame Judi Dench by accident in "Da Flippity Flop" and proceeds to tell her all about his new membership in Roger's gym. When he arrives at Roger's attic, he thanks Dame Judi and hangs up, leading to a live action clip of Dench hanging up the phone in bewilderment.
Judi is mentioned in "Whole Slotta Love" as an example of someone who didn't have success until late in life.
Community content is available under
CC-BY-SA
unless otherwise noted.