Steve previously taught Stan to cry in "Every Which Way But Lose".
Although traditionally a vegetarian dish, Jackson once got a rat in his ratatouille and liked it.
Dick confuses Bolognese for bologna.
Carol swore an oath to the CEO of Best Buy to uphold the integrity of the contest on a DVD 3-pack of Die Hard, Little Women and The Natural.
Even though his HVAC business is struggling, Roger's fruit leather belt company is still thriving.
Dick dates a literal catfish.
Stan is unable to see Dr. Ray Petit due to him being dead that particular day.
Hooper is the only one rooting for Stan in the crying contest.
"Angel" by Sarah McLachlan plays during the commercial when Steve tries to teach Stan how to cry.
"See the Big Man Crying" by Charlie Louvin plays as Steve tries to settle Stan's crying.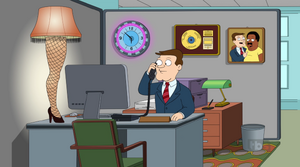 Jackson's office contains a gold record, the leg lamp from A Christmas Story and a portrait of him with Cleveland Brown. Both characters were voiced by Mike Henry at the time of broadcast.
Robert Wuhl was a five-time winner of the Best Buy Best Boy award.