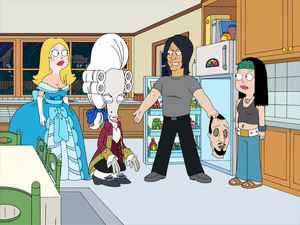 Christopher Nicholas Sarantakos (born December 19, 1967), better known by his stage name Criss Angel, is an American magician, illusionist, musician, escapologist, and stunt performer. He is best known for starring in his own television show, Criss Angel Mindfreak.
Roger and Francine return from what they believed to be a masquerade ball to find Hayley with magician David Blaine in an airless refrigerator in "Delorean Story-an". When Blaine collapses and they believe him to be dead, he reveals himself to be fellow magician Criss Angel, to Roger's delight.
Criss is mentioned as living on the top floor of the Luxor hotel in "Roger's Baby".
Criss provides his own voice in "One Fish, Two Fish" when the Smith's, desperate to crack open a coconut, employ the 'dark arts.' Not only is Criss able to open the coconut, but Klaus and Hayley, temporarily in a fish body herself, are inside after being deported when trying to fake being married.