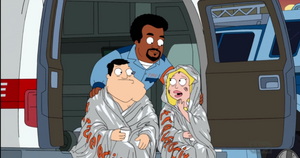 Craig Phillip Robinson (born October 25, 1971) is an American actor and stand-up comedian. He is best known for his roles on The Office as Darryl Philbin and in the films Knocked Up, Pineapple Express, Zack and Miri Make a Porno, Shrek Forever After and the Hot Tub Time Machine series.
Craig provides assorted voices for American Dad!, including the security officer in "Kiss Kiss, Cam Cam", Dirk Turlington in "My Purity Ball and Chain" and an unnamed version of himself in "The Future is Borax" among others.
He does appear as himself as a member of the 'RB Killer' bus tour in "Exquisite Corpses".