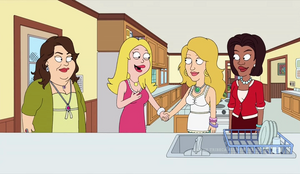 Constance Elaine "Connie" Britton (née Womack; born March 6, 1967) is an American actress, singer and producer, known for her work in Nashville, American Crime Story and the television series of Friday Night Lights.
Connie provides her own voice as one of Francine's imaginary friends, along with Sharon and Caroline, when she drinks her "private reserve" of Windex and fertilizer in "Whole Slotta Love".
When Klaus suggests that Stan may be having an affair at work, Francine brushes it off but gets hammered to consult with her "friends" who lead her to investigate further. She finds that Stan isn't having an affair, but has become undesirable after becoming hooked on slot car racing. Her friends suggest she get him a makeover, but that falls flat as well.
Worried that Stan may actually be carrying on with Mel, his slot car racing partner, she finally has enough of bad advice and smashes her bottle, dispatching the trio to a portal to Hell as they curse her. Determined to get her Stan back, she is not as sober as she thinks she is and falls into the pool.
Community content is available under
CC-BY-SA
unless otherwise noted.