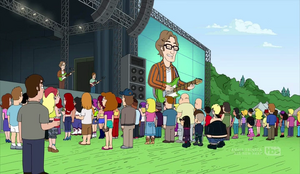 "Closing Time" is a song by American rock band Semisonic, released in March 1998 as the lead single from their album Feeling Strangely Fine. It was nominated for the Grammy Award for Best Rock Song in 1999 and reached #1 on Modern Rock Tracks.
Semisonic appears with lead singer Dan Wilson singing "Closing Time" at 90s Fest in "The Witches of Langley". When he objects to Steve lurking backstage in preparation of enslaving everyone, Steve uses his witchcraft power to explode his head.
Lyrics
Closing time... [Dialog from the boys overrides part of the song]
Time for you to go out go out into the world
Closing time
Turn the lights up over every boy and every girl
Closing time
One last call for alcohol...
[Steve forces his way onstage]
Dan Wilson: Hey man, we're trying to play "Closing Time".
[Steve kills him]