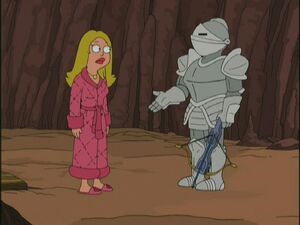 Clifford is the guardian of Stan's secret tunnel in "Of Ice and Men". He attempts to stop Francine at first but opens up after she explains who she is. He says Stan owes him $42,000 but he is keeping it in an account for him. Francine later invites Clifford up to play the game "Battleship" and he tries to talk her into playing Strip Battleship.
Clifford makes a cameo in "Widowmaker" when the cast and crew celebrate the 1000th vagina joke.
He also appears in the audience in "Phantom of the Telethon".
He has a crowd scene cameo in "100 A.D.", where he joins a large group of Langley Falls citizens to stop Jeff and Hayley's wedding, but quickly dies, along with everybody else on the bus when the bus crashes. He returns in the episode recap in "Son of Stan".
Clifford is a parody of Ed, the guardian of comedian Jack Benny's money vault. Ed had been reported at various times to have been on duty since the American Civil War and the American Revolution, Jack's 38th birthday (itself a running gag as Jack was perpetually 39) and the dawn of time itself.
Clifford is voiced by Tom Hollander.