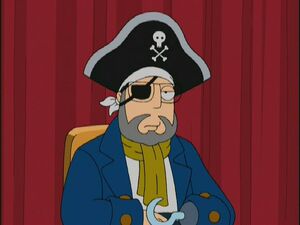 Captain Monty is the host of Cap'n Monty's Book Calvalcade, a television show hosted by Captain Monty, a dry-voiced television host. When Steve becomes the 'bad boy' of publishing and his book Roger the Alien becomes a hit, he lands a spot on the show in "Star Trek".
Captain Monty is paired with Barb Hanson in "Roger 'n' Me" on the television show Best Buddiez!, the two of them having matching hooks for hands.
He has a restaurant called "Cap'n Monty's" in "When a Stan Loves a Woman" where Stan and Joanna go for a date after shooting each other at the Fun 'N Gun Shooting Range. When Captain Monty warns them to wait before touching the fondue, they become competitive over who can touch it in the most dangerous fashion.
In "Tearjerker", Captain Monty runs a boat tour called 'Gum's Boat Tour' that reveals all of Tearjerkers plans to Stan Smith and Sexpun T'come (Francine).
Captain Monty appears in a cameos at the Parade of Homes in "Meter Made" and in "Widowmaker".
Bruno and the rest of the Tex and Mex cast appear to perform a dance routine with Captain Monty and Barb Hanson in "Phantom of the Telethon".
Captain Monty is voiced by Matt McKenna.
Appearances
Community content is available under
CC-BY-SA
unless otherwise noted.