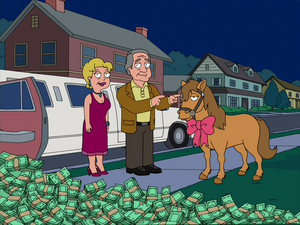 Buttercup is the name Stan would have given the pony offered by Nicholas and Cassandra Dawson if he would have informed Francine that they were her true parents in "Big Trouble in Little Langley".
Despite his dislike for Francine's adopted parents, Mah Mah and Bah Bah Ling, after being saved by Bah Bah when their house catches fire, Stan realizes that the Dawsons are unfit to be introduced to Francine, after shamelessly abandoning her as an infant for a vacation and Stan in the fire. Despite their offering money and the pony as gifts, Stan directs Francine's attention to the Lings.
Community content is available under
CC-BY-SA
unless otherwise noted.