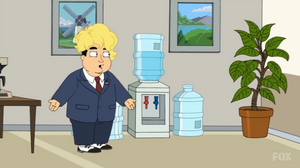 Butch Johnson is a Chinese spy posing as an employee of the CIA in "Flirting With Disaster". He relentlessly pursues trying to obtain launch codes with the help of another pair of Chinese spies posing as a Dutch documentary crew. When Francine's face is melted off by a jealous secretary at the CIA when she is hired, Stan goes to see if Butch will try to make Francine feel better when no one else in the office will have anything to do with her. Stan offers the launch codes, in exchange for flirting with Francine but Butch refuses and gives away his cover rather than having to face Francine. He offers advice to Stan that he should spend more time with her. When he is done, he asks Stan if he is out of trouble and Stan shoots him.
He is voiced by Ken Jeong.
Community content is available under
CC-BY-SA
unless otherwise noted.