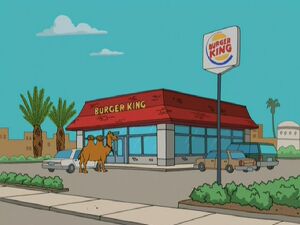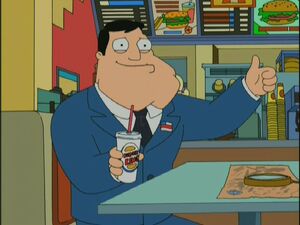 Burger King, often abbreviated as BK, is a global chain of hamburger fast food restaurants. The first restaurant was opened in Miami, Florida in 1954.
Burger King is seen in Saudi Arabia. Hayley goes out with Mamood on a date in "Stan of Arabia: Part 1" to Burger King even though she would rather eat the local food. He turns out to be a complete nerd, and Hayley dumps him.
In "Black Mystery Month", Stan and Steve unravel the first clue to the "Jar of Proof" at Burger King while Stan makes it obvious they are promoting the brand.
Sergei Kruglov said that he worked in the first Moscow Burger King in "Red October Sky".
In "Honey, I'm Homeland", Stan mistakes Luli, Artemis, and Christoff for the Burger King Kids Club, a Burger King children's advertising campaign in the 1990s which featured similarly diverse characters.
In "CIAPOW", Stan, Dick, Jackson and Hooper take refuge in a Thailand Burger King, since Hooper believes that an international Burger King is considered American soil. There are several obligatory plugs for the restaurant in the episode.
Roger points to a coupon in the newspaper for a free Burger King Whopper in a class of students that can't read in "Stan-Dan Deliver", telling them that it is an article that states that most will end up dead or in jail.
Stan claims that Burger King started out as a topless maid service in "The Talented Mr. Dingleberry".
Snot tells Steve that the only thing he has in his room is a Burger King wrapper taped to his wall in "The Legend of Old Ulysses".
When Stan and Francine try to place a bet on a dog race using a Burger King coupon in "Fleabiscuit", they are given access to the BK Royalty Lounge.
In "Game Night", Roger becomes so full from eating at Frog Ross foie gras restaurant, he nearly avoids stopping at Burger King.