For a complete script, see: "Buck, Wild" on the Transcripts Wiki
---
Steve: I can't believe I have to sit at the kids' table. I'm fourteen!
Kid: I'm Batman.
Steve: NO, YOU'RE NOT!
---
Steve: YOU ARE WASTING YOUR CHARIZARD!!
---
[Steve has regrets as Stan recounts how he killed the deer]
Steve: Yeah, well, I guess they're both in a better place now.
Stan: That's right, deer Hell.
---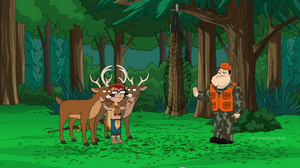 [Steve introduces Stan to his deer "grandchildren"]
Stan: Um...hello. Sorry Pee-Pa tried to kill you.
Community content is available under
CC-BY-SA
unless otherwise noted.