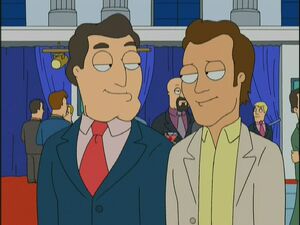 For Stan's former Satanic friend, see Brett Morris
Brett is one of the leaders of the Log Cabin Republicans, a group of Gay activist Republicans that are refused entry into the Republican National Convention in "Lincoln Lover". Stan attracts the attention of the Log Cabin Republicans with his portrayal of Abraham Lincoln and his bodyguard. After at first rejecting and then embracing the gay Republican lifestyle, Stan is kicked out of the group when it is revealed he helped organize the "7th Annual Anti-Gay Palooza" with Pat Robertson. Stan is given the chance to replace the Langley Falls chapter of the Conservative Republicans first choice Nancy Calliope when it is discovered she drives a Toyota Prius. Stan takes the opportunity to speak out on the behalf of the Log Cabin Republicans at the convention.
Brett appears in the audience in "Phantom of the Telethon" and at the party at the end of "Daddy Queerest".
Brett also tries to eat at the title restaurant in "Stan's Food Restaurant", but is Shanghaied by Roger and appears at The Chuckle Box in "White Rice".
He appears in the audience at Roger's Place when Hayley sings in "Love, American Dad Style", at the National Spelling Bee in "Spelling Bee My Baby" and outside of the Langley Falls Museum of Art in "Bazooka Steve".
He is seen at the Langley Falls Community Center in "My Purity Ball and Chain".
Brett is voiced by Scott Lowell.
Appearances