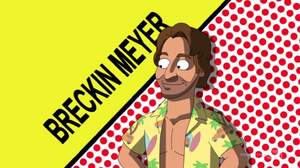 Breckin Erin Meyer (born May 7, 1974) is an American actor, voice actor, writer, producer and drummer, known for his work in films such as Clueless, Road Trip, and for providing voices for Robot Chicken.
Breckin provides his own voice when Roger, posing as The Weeknd, feels he needs an 'energy guy' to complete his entourage in "A Starboy is Born". But when Roger gets carried away and ends up in jail, he tries to call Stan for help but is rejected. However, Breckin Meyer, posing as a police officer, is able to free him before stealing a police motorcycle to return to Cabo.
When Francine is dying of bubonic plague at the end of the episode, Breckin delivers The Weeknd to her location on a volcanic island by way of a hot air balloon and is able to save her.