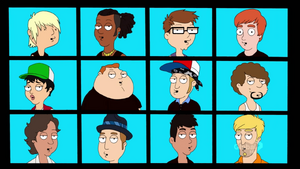 Boyz 12 is a boy band supergroup put together by Snot's uncle Lew Schneider after he hears Steve and his friend's group "Boy Bomb" sing at Pizza Overlord. When Steve and the guys arrive at Lew's office at Responzible Recordz, they find he has also brought in two other boy bands, "Boy Jam" and "Boyz With Mouthz" to form a supergroup. But after spending a fortune for costumes and set pieces for their video "Girl You Need A Shot (Of B12 (Boyz 12))", Lew finds out from a janitor friend at Arista Records that they just signed an even larger group, "Boyz 13" and he shoots himself.
The boys are Barry, Georgie, Toshi, TJ, Parker, Steve, Snot, Abraham, Boris, Abraham H., Constantine, plus Victor who is actually a girl.
Boris can be seen in the bleachers of the football game in "Introducing the Naughty Stewardesses".
TJ can be seen at the Chimdale Roller Rink in "LGBSteve".
Georgie is the bad-boyfriend date of a girl in "Gift Me Liberty".
Several members of the group attend the Harlem Globetrotters game in "Klaustastrophe.TV" and the Washington Nationals game in "Fantasy Baseball".
Community content is available under
CC-BY-SA
unless otherwise noted.