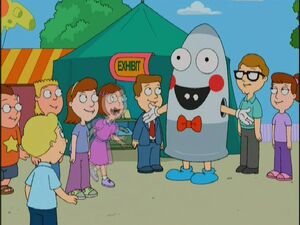 Bobby the Bullet was the mascot of NGA Land, a theme park owned by the National Gun Association. As part of the park's entertainment, he encourages kids to take on his arch-enemy A.C.L. Lou, a parody of the American Civil Liberties Union (ACLU) in "Stannie Get Your Gun".
When Hayley proves to be more popular with the kids, first discouraging guns and then reluctantly working with her father to support them after she shoots and paralyzes him, Bobby is fired. He shows up with the intention of killing Hayley to get his job back. Stan takes the bullet meant for his daughter, and, miraculously, the second bullet dislodges the first bullet, and Stan recovers completely. After firing his gun, the crowd immediately captured him, and turned him in.
He has a crowd scene cameo in "100 A.D.", where he is caught in a bus crash that flings him several miles away, and he fatally impales Brett Morris before dying of his own injuries. After their deaths, a satanic flame drags Bobby and Brett's corpses into Hell. He returns in the episode recap in "Son of Stan".