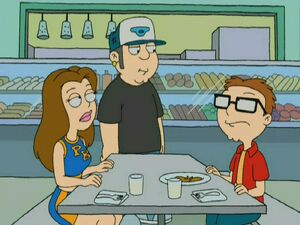 Bobby is a student at Pearl Bailey High School. When Steve Smith becomes school president in the "Pilot" episode, Bobby becomes Steve's personal 'gopher'. Bobby has frequent crowd cameos at school including "Escape from Pearl Bailey", "Bully for Steve", "Jenny Fromdabloc", "Virtual In-Stanity", at the sci-fi convention in "All About Steve", When Steve blows up Roger in "Big Trouble in Little Langley", at the amusement park in the end credits of "Family Affair" and at Cirque du Hey Hey Hey in "Stanny-Boy and Frantastic".
Bobby steals Steve's shoes at a party in "I Am the Walrus".
Bobby appears in a group of teenagers who apparently like skateboarding in "Con Heir".
In "Bar Mitzvah Hustle", he appears in the school cafeteria, where he gasps when Etan Cohen threatens to Snot that he will never have a bar mitzvah after convicted of stealing Etan's bar mitzvah money.
He attends the Chimdale Prison kickball game in "Man in the Moonbounce" and can be seen outside of the hotel in "Fartbreak Hotel".
Bobby is part of a group of kids that drag a police helicopter and officer through the streets in "Less Money, Mo' Problems".
Bobby exits the Gravatron ride at a carnival with Stan, Steve and Snot in "Why Can't We Be Friends?".
Bobby joins Steve for Cartoon rush hour in Cartoon City at the Familyland Theme Park in "Familyland".
He can be seen at the Washington Nationals game in "Fantasy Baseball", at the fight club in "Shark?!" and in driver's ed in "Demolition Daddy".
He is also seen in the school hallway in "Tapped Out".
Appearances