Big Stan on Campus
Stan becomes a college security guard.

Season: 10 Episode: 07
Total Episode Count: 179
Prod. no.: 9AJN04
First Aired: November 10, 2014

Guest Starring: Dean Norris
Featuring: Stan, Roger
Also Appearing: Francine, Hayley, Steve, Klaus, Avery Bullock, Jackson, Dick, Marcus, Eric, Hooper, Greg Corbin, Exmack, Josh, Mr. Cavendish, Troy, Tina, Kyle, Mark Spitz
Director: Pam Cooke, Valerie Fletcher
Writers: Brian Boyle
Storyboarders: Eric Fredrickson, Jee Hyun Yoo, Josue Cervantes

Roger's Disguise: Mr. Vanderhill from "Stanny Tendergrass"

Plot: Due to budget cuts, Bullock decides he needs to furlough an employee for a month without pay and Stan allows himself to be "volunteered." Stan picks up a security job at Groff Community College and Steve talks Roger into following through with a bed and breakfast idea. Roger agrees on the condition that everyone helps him.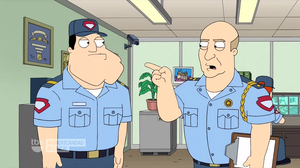 At work, Stan treats the job as time to party. He joins the kids in playing and works hard to be "cool" even though his boss advises him to keep himself set as an authority figure. Sent to break up a loud party, he tries to be nice and finds he is rejected. Things escalate when Stan tries to do his job and a kid's music player is broken. Returning to base, security finds the kids marching in protest against campus security. Stan tries to win them back but falls flat when tossing a frisbee is treated as brutality. Security is ordered to clear out the protesters as Stan feels like he is working with fools in their plan to clear out the kids. Stan decides to try to act as an intermediary but finds the kids refuse to treat him with respect. He finally snaps and pepper sprays the kids until stopped by his co-workers. He is treated as a hero until he finds he is dreaming and is dragged off by security. He is tricked into believing that the matter is settled and is sent outside to face the mob by himself. He tries to apologize but is nearly attacked until Bullock arrives, although he is slow in recognizing Stan's request to be taken into the helicopter and Stan gets beaten. Bullock sprays the mob with alcohol, pacifying it as he tells Stan that they can return to work as he found an excess of money being spent on helicopter maintenance as the copter suddenly explodes and crashes.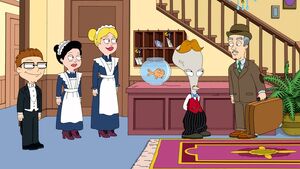 Roger finds himself promising to serve a demanding guest. The guest calls in the wee hours and demands gourmet food and points out property faults. Steve tries to work around not having the ingredients while the rest of the family works through the night to meet demands. As the guest checks out, he is satisfied that his every expectation was met but he leaves without paying and is picked up and sent back to the mental hospital as Steve finds he has crapped throughout his room.