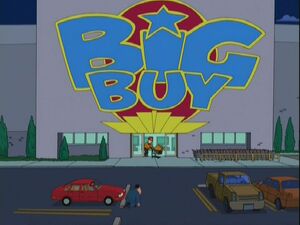 Big Buy is where Roger tries to take Stan to buy him a new television in "Rough Trade". When Stan refuses, Roger tries to leave him in the parking lot but accidentally hits several other cars, ditching Stan and leaving him to get arrested for drunk driving.
Roger demands to meet with Stan behind the Big Buy in "Roger 'n' Me" when Stan starts avoiding him after they bond. When Stan insists on getting rid of Roger, they accidentally run over Francine...twice.
Big Buy is one of the places that Roger tries to scam with the help of Steve in "I Can't Stan You".
Stan goes on a shopping spree and hires two of the computer technicians to help Steve build a rocket for a rocket competition. "Red October Sky".
Roger learns that a woman was sexually harassed at Big Buy in "Stanny Slickers 2: The Legend of Ollie's Gold".
Roger goes shopping for a camcorder in "The Unbrave One", then tries to return the floor model he stole when he finds it priced less elsewhere.
Community content is available under
CC-BY-SA
unless otherwise noted.