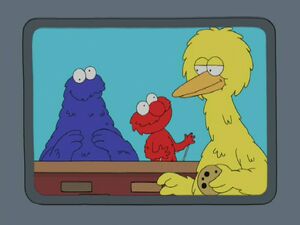 Big Bird is the main protagonist of the children's television show Sesame Street which airs on PBS. Big Bird, like many of the other Sesame Street characters, is a Muppet character. He is sometimes referred to simply as "Bird" by his friends.
Officially performed by Caroll Spinney since 1969, he is an eight-foot two-inch tall bright yellow bird. He can roller skate, ice skate, dance, sing, write poetry, draw and even ride a unicycle. He lives in a large nest behind the 123 Sesame Street brownstone.
Cookie Monster, Elmo and Big Bird appear in "Francine's Flashback" while Stan watches Sesame Street on the morning of his and Francine's anniversary. he yells at the television that the other Muppets should go as far as to "shoot him (Cookie Monster) in the face" because he doesn't eat the cookies but rather crumbles them with his mouth.
The Newspaper headline gag for "Stannie Get Your Gun" reads "Big Bird Dead Of Big Avian Flu" .
Barry blurts out that there is a person inside of Big Bird in "A Piñata Named Desire" when Snot points out that they are not kids anymore.
External links