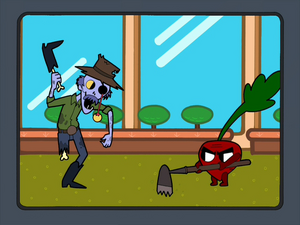 Beetman is the protagonist of a video game of the same name that Stan becomes obsessed with after taking pills created by the CIA in order to stay awake at all hours and have some time to himself in "Stan Time".
The game features maniacal zombie farmers, radioactive rabbits as well as being able to play head-to-head. Stan plays in the regional tournament at Pizza Overlord and wins, but suddenly realizes that his game playing has alienated him from Francine who has go one to search for colossal squid with French oceanographer, Phillipe Monday.
Beetman is one of the games playable in the arcade in "Jenny Fromdabloc". It is seen in the background during the explanation for Jenny's death.
A flier for Beetman sits at the concierge desk in "Fartbreak Hotel".
Steve tries to relax and play Beetman in "Spelling Bee My Baby", but is forced by Francine to practice his spelling as she smashes the controller into the television.
A Beetman arcade game can be seen at the Langley Falls Roller Rink in "LGBSteve", in Dave & Busters in "Paranoid Frandroid" and at Seaside Lanes in Boca Raton in "300".
Steve has a Beetman poster hanging in his room in "Lost Boys".
The Beetman machine at Pizza Overlord is visible, although out of order, in "Mom Sauce".