Bazooka Steve
Steve convinces the star quarterback of the arena football team to stop playing.

Season: 12 Episode: 12
Total Episode Count: 224
Prod. no.: BAJN12
First Aired: May 29, 2017

Guest Starring: Jemaine Clement, Colin Cowherd, Diedrich Bader
Featuring: Steve Smith
Also Appearing: Stan, Francine, Klaus, Roger, Hayley, Jeff, Toshi, Snot, Barry, Avery Bullock, Principal Lewis, Greg Corbin, Memphis Stormfront, Parker, Danny, Quackenbush, Earl, Troy, Brett, Vince Chung, Magunga, Mikeah, The Langley Falls Bazooka Sharks, Aberdeen Pizza Rockets, Sky Crooner, Donny Forfeit, Juan 'Johnny Concussion' Consuelo
Director: Rodney Clouden
Assistant Director: Chris Robertson
Writers: Joel Hurwitz
Storyboarders: Oreste Canestrelli, Brian Mainolfi

Roger's Disguise: Widow from "Widow's Pique"

Plot: A mysterious box washes up on a tropical island, to the consternation with the local natives. As they approach with caution, Steve emerges.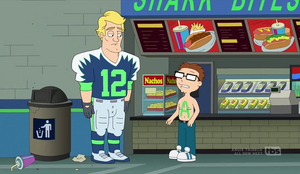 Three to five business days previously, the family prepares for the Bazooka Sharks championship game with the Aberdeen Pizza Rockets after a 3-2 season. With Dick unable to join the cheering section they prepared, they draft Steve to fill in, despite his reservations. He is horrified by the violence of the game, which includes 'Johnny Concussion,' the star quarterback who has a reputation for marginally bouncing back from numerous concussions. When Steve escapes to the concession stand, he is approached by Johnny who has lost his way to the field due to yet another concussion. Steve tricks him into leaving the stadium and quitting the game for his health, but it results in the backup quarterback losing the game.
The next day, Steve is exposed as the one who convinced Johnny to quit, and instantly draws the wrath of the town. An effort to clear his name on a sports radio show only results in him having to flee for his life, getting a clerk in a shipping store to mail him 'to the other side of the world,' but he is only sent standard mail, which takes three to five business days. Steve is accepted into the tribe, but finds he has to earn his keep basket weaving, which only results in a small basket that takes three months to complete. A short break is allowed when a volcano erupts, which results in a competition between tribes to roll boulders into the volcano's mouth. Steve soon finds himself cheering for the local hero, and he makes the connection of people using sports to relieve the daily grind of their work. He returns to Langley and convinces Johnny to return to the game.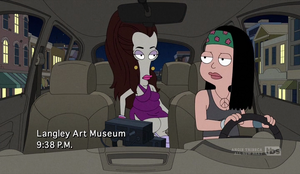 Meanwhile, Hayley misunderstands that a "dime" bet with Roger on the Bazooka Sharks means a thousand dollars so he puts her to work as a taxi driver in order to earn the money. Unfortunately, some of her 'customers' are Roger's own personas. After months of work, she successfully pays him off but continues to drive, noting that she hasn't seen her brother in months as Roger is left alone to watch television.