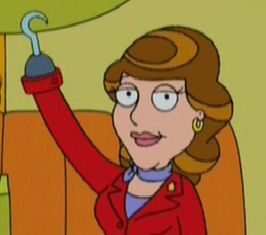 Barb Hanson works for a real estate firm and is abducted by Stan when Francine reveals she wants to become an estate agent in "Threat Levels". She is sent to the Guantanamo Bay detention camp where two prisoners remark about cutting off her lovely hand after she takes their napkin.
Captain Monty is paired with Barb Hanson in "Roger 'n' Me" on the television show Best Buddiez!, the two of them having matching hooks for hands.
She can be seen in a passing bus in "Irregarding Steve".
Later, she reappears in "Meter Made".
Bruno and the rest of the Tex and Mex cast appear to perform a dance routine with Captain Monty and Barb Hanson in "Phantom of the Telethon".
She has a crowd scene cameo in "100 A.D." and also appears outside of Cirque du Soleil Moon Frye in "Stanny-Boy and Frantastic".
Barb attends Tuttle's eclipse party in "Stan & Francine & Connie & Ted" and appears during "Everyone is Happy in Utopia" in "300".
Barb is voiced by Rachael MacFarlane.
Appearances
Community content is available under
CC-BY-SA
unless otherwise noted.