Bahama Mama
Hayley and Jeff decide they want to have a baby.

Season: 12 Episode: 05
Total Episode Count: 217
Prod. no.: BAJN05
First Aired: December 5, 2016

Guest Starring: Wiz Khalifa
Featuring: Stan, Hayley, Jeff
Also Appearing: Francine, Klaus, Steve, Roger, Al Tuttle, Susie, Tyler, Mark, Jimmy, Donnie, Tyler, PJ, Drake, Matteo, Caroline Duffy, C.J. Parker, Mitch Buchannon
Director: Jansen Yee

Assistant Director
:
Megan Kelly
Writers
:
Zack Rosenblatt
Storyboarders
:
Eric Fredrickson
,
Valentino So
Roger's Disguise
: CEO of Tetradual from "
Kiss Kiss, Cam Cam
"
Plot
: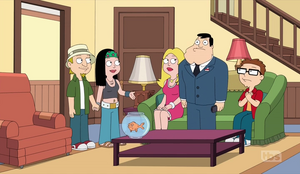 When Roger views Baywatch on television, he becomes obsessed with beach life and living as a lifeguard. Meanwhile, Hayley and Jeff announce that they are trying to become parents. This news elates most of the family, although Stan takes the news poorly as he feels he is not yet ready to become a grandparent. Stan tries to slip Hayley birth control pills in her orange juice and takes Jeff to get a vasectomy, but both plans fail as the pair plan a romantic Bahamas getaway.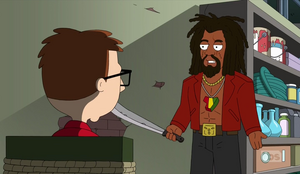 To stop them, Stan and the family tag along, with Roger getting closer to his lifeguard fantasy and Francine imbibing through the trip. Steve and Klaus ditch the kids club to explore outside of the resort, and are immediately captured by a drug gang, but news of soon becoming an uncle spares their lives and they are incorporated into the gang, although Klaus loses control under the influence of cocaine. Depressed over his efforts to keep Jeff and Hayley from having a baby and making him a grandparent, Stan drinks with Donnie, the resort's water show villain at the resorts pool bar. Wanting the top job of "hero," he hatches a plot to kill Jeff for Stan in exchange for Stan killing Tyler, the "hero" of the water show. Stan rejects the idea, although Donnie believes the plot is still on and proceeds to attempt to kill Jeff.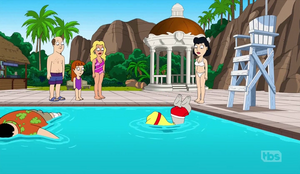 When the drug shortages become apparent, Steve and Klaus are rescued from death by the kids club they spurned. While trying to stop Donnie, a series of mishaps leave Stan hard of hearing and appearing elderly. He manages to annoy a group of children playing in the pool who turn on him. Roger leaps in to save him, but plants himself face-first in inches of water, bringing his lifeguard dreams to a halt. Stan sees that Jeff is about to be killed and sends the children after the "villain" of the show, where he is dragged off into the bushes.
On the flight home, Stan admits that maybe he wants to be a grandparent after all while he is still young enough to enjoy it, and Roger comments on giving birth to a human hybrid. As the family gives him puzzled looks, he recalls how their memories were erased and that Jeff is really an alien with Jeff's brain. As the credits roll, the announcer teases future plots and the possible return of Reginald Koala.

Community content is available under
CC-BY-SA
unless otherwise noted.