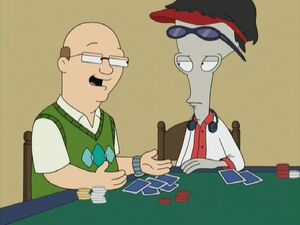 Bad Larry was one of Stan's CIA poker buddies. In "42-Year-Old Virgin", he recalls his very first kill, his ex-partner whom he found was a double agent and disposed of in a gruesome manner. He decides to help Ray and Roger get Stan his very first kill when they find out he never killed anyone before. When Stan finds out Steve has been taken by pedophile Randy to his secret hideout behind the waterfall at Wet, Young & Wild water park, they rush in to save the boys. When Randy brags that he'll get off due to his mother's money and a good lawyer, Stan tries to shoot Randy and ends up killing Bad Larry, getting his very first kill.
Larry remarks, right before his death: "... I shall become more powerful than you can possibly imagine." Bad Larry continues to appear in many crowd scene cameos after his death such as in "Tearjerker" and in "Widowmaker". He also appears in "Phantom of the Telethon" on the CIA torture bloopers, at the Cirque du Hey Hey Hey in "Stanny-Boy and Frantastic", and at Roger's Place in "Love, American Dad Style".
In "The Future is Borax", he can be seen in the background in the commercial for Pizza Overlord and at the Groff Community College graduation in "Pride Before the Fail".
Bad Larry is voiced by Don Lake.
Appearances
Community content is available under
CC-BY-SA
unless otherwise noted.