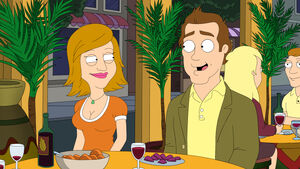 Michael Anthony Hall (born April 14, 1968), known professionally as Anthony Michael Hall, is an American actor, producer and director who starred in several teen-oriented films of the 1980s. His films with director-screenwriter John Hughes, beginning with the coming-of-age comedy Sixteen Candles, shaped his early career. Hall's next movies with Hughes were The Breakfast Club and Weird Science. Hall also appeared in National Lampoon's Vacation and also played a villainous role in Tim Burton's Edward Scissorhands.
Anthony Michael Hall voices Tom, part of a young couple that Stan and Francine try to keep up with in "Stanny-Boy and Frantastic".
Community content is available under
CC-BY-SA
unless otherwise noted.