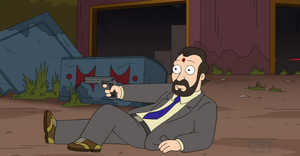 'Nose Candy' Andy Benedict is a powerful and dangerous drug dealer that the DEA elists Roger to help take down in "Twinanigans".
When Roger gets busted for drugs at a Hollywood party where he tries to get a better acting job than Steve when the latter breaks up their twin brother acting duo, the DEa offers him a break if he can wear a wire and help take down Andy. Steve is naturally concerned, but Roger believes it to be just another acting job. Trying out various methods of acting, Roger's idea of sex appeal exposes the wire he's wearing. Steve arrives, and together they take out the members of Andy's gang with their 'twinanigans'. But after an impassioned speech from Steve, and he prepares to shoot him only to be foiled when Roger eats his gun. When Roger turns his back on Andy, he pulls out a second gun and takes aim at Steve. Rodger forces the gun that he ate near the his skin enough to pull the trigger and shoot Andy.
Community content is available under
CC-BY-SA
unless otherwise noted.