An Incident at Owl Creek
In preparation for a neighborhood pool party, Stan tells his family to get in tip-top shape, but an accident ruins the Smith family name.

Season: 5 Episode: 17
Total Episode Count: 95
Prod. no.: 5AJN08
First Aired: May 9, 2010

Featuring: Stan Smith
Also Appearing: Francine, Roger, Hayley, Steve, Klaus, Sharri Rothberg, Buckle, Bob Memari, Linda Memari, Greg Corbin, Terry Bates, Katie, Avery Bullock, Jackson, Dick, Doyle, Frank, Trudy Lawrence, Susie, Ron, Karen Foster, Chairman Meow, Dr. Olestro Montezuma, Manuel, Barack Obama, Michelle Obama, Malia and Sasha Obama, Fatso
Director: John Aoshima, Jansen Yee
Writers: Alan R. Cohen, Alan Freedland
Storyboarders: Dave Bonanno, Megan Kelly

Roger's Disguise: "Tearjerker"

Plot: In preparation for Buckle and Sharri's pool party to celebrate their moving into the neighborhood, Stan bosses his family into getting into tip-top shape fearful of a faux-pas. But when Stan defecates in the pool while doing a cannonball, he tries to hide under the kitchen sink. The family talks him into coming out, but everywhere he turns he sees people laughing at him. Unable to take it anymore, he blows up his house to fake the family's death and takes the family in search of somewhere where no one knows who he is. Stopping at a diner, he learns of Mercyville, Indiana and heads there thinking it to be the perfect spot to start anew. But when he is recognized, he moves on leaving death and destruction behind him as he tries unsuccessfully to find a place that has never heard of his misfortune. In frustration, he gives up and decides to send the family back home. Stan stays behind to have one last drink then blow his brains out when he hits upon a plan to make President Obama make the same faux-pas negating his shame. Stan obtains a mobile catering truck to launch "Operation Pinch-A-Loaf".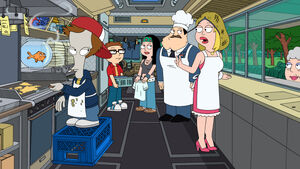 He has Francine and Hayley pose as a lesbian couple who adopt Roger in order to get him into Malia and Sasha Obama's school so they can have contact with the Obama family. Stan buys an old decrepit pool to renovate it into a community pool and invites Obama to swim the first lap in inauguration. After hiring a professional to come up with an industrial-strength laxative, Stan has Roger spike a hot dog to be given to the President, but Obama won't eat before swimming. An attempt by Francine to get the laxative on his skin by shaking hands also fails. Just when Stan is about to give up, Klaus takes the laxative and attempts to place it bodily on Obama while he is swimming but is spotted by the secret service and blown to pieces.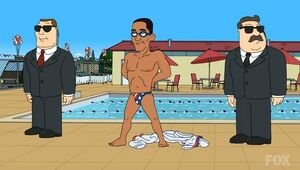 As the family reacts in horror, the secret service grabs Stan. When Obama recognizes Stan from the videos of his misfortune and asks for an explanation, Stan tells him that he hoped people would quit laughing at him if Obama did the same thing. President Obama tells him he needs to ignore what other people think and not let the laughs get to him. Just as Michelle Obama sets up to perform a cannonball in the pool, Stan comes to his senses on the diving board and realizes it was all a dream fantasy. He still has intestinal trouble but decides to dive in anyway committing the deed that haunted him. When he returns to his house, Stan adds President Obama's name to the list of people that gave him bad advice in his extended fantasy sequences.

Community content is available under
CC-BY-SA
unless otherwise noted.