American Stepdad
Roger marries Stan's mother, and becomes Stan's stepfather.

Season: 8 Episode: 04
Total Episode Count: 137
Prod. no.: 7AJN10
First Aired: November 18, 2012

Guest Starring: Swoosie Kurtz
Featuring: Stan Smith, Betty Smith, Roger
Also Appearing: Klaus, Francine, Hayley, Steve, Snot, Barry, Toshi, Jeff Fischer, Hercules, Greg, Terry, Mr. Brink, Lauren & Kim, Shawn Ian Kirkoff, Randy Scott Knobson, Brian O'Connor & Dominic Toretto, John Stamos
Director: Shawn Murray

Assistant Director
:
Dante Fabiero
Writers
:
Jordan Blum
,
Parker Deay
Storyboarders
:
Eric Fredrickson
,
Jee Hyun Yoo
Roger's Disguise
: Fabio from "
Don't Look a Smith Horse in the Mouth
"
Plot
:
When Stan gets word that his step-dad Hercules has died he is less than grieved as he barely cared about his real father. After the funeral, Stan's mother Betty revealed that she spent her entire savings and Francine invites her to stay with them. Back home, Stan kicks Roger out of the attic to make room for his mother and sends him to the basement. But when Stan arrives home to find Jeff moving Roger's stuff back upstairs he finds out that Roger married his mother in his persona of "Tom Yabo". They recount how they met and Stan accuses Roger of using her to get his room back. Roger denies the allegation and Stan is forced to watch as they kiss. Over a dinner presided by Betty and Roger, Stan still can't get adjusted to the thought of Roger as his father, but Roger actually assumes a fatherly role and gives Stan good advice and they patch up an old car together.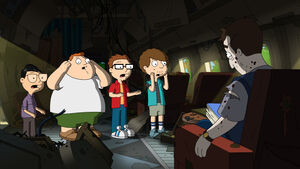 Meanwhile, Steve and his buddies find a crashed airplane and discover a script for Fast and the Furious 7. They read the script and image the action and they believe it needs to get to Hollywood. But as they read further, they find the script has several hard-core homosexual scenes. They decide to edit the script to keep the car action while removing the sex but find they are down to eight pages as they head off to Hollywood. At Universal Pictures, they find out that removing the sex scenes casts doubt on the authenticity of the script until they produce the remainder and the film is made.
As Betty announces that she and Roger are heading off to Niagara Falls, Roger gives Stan the car they worked on together. But after they take off, Stan finds evidence that suggests Roger plans on killing his mother at the falls. Stan rushes off but crashes the car. Stan still arrives in an ambulance and finds his mother at the edge of the falls, but finds out that she planned on killing Roger for insurance after she pushes him and they both fall over as Stan grabs them both. As Stan is unable to save the two of them, Roger sacrifices himself to save his relationship with Stan but turns up leading a tour group. Stan's mother manages to collect the life insurance for Tom Yabo and heads off to Paris as Roger's life returns to normal. In Paris, Betty stops in a theater to see Fast in the Furious 7 where she enjoys the gay sex scenes.

Community content is available under
CC-BY-SA
unless otherwise noted.