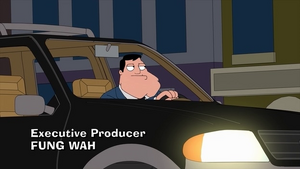 Urban Dictionary defines "Fung" as "A male Asian normally with an unreal amount of swag."[1]
Fung Wah is named as an executive producer of the show in the credits.
The stock footage shown in the Fung Wah Resort in Bali advertisement is actually footage of Hilton hotels in Hawaii and Puerto Vallarta.[2][3]
Bullock notes that due to Stan's previous misadventures in time, the current timeline now has margarita machines and Israel.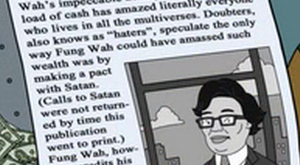 According the the fine print in the newspaper story about Fung Wah, he is rumored to have made a deal with Satan to acquire his wealth, but calls to Satan were not returned.
"Jumpstart" by These Kids Wear Crowns plays during Stan's trip to the Langley Falls Shopping Mall.
Stan listens to Twisted Sister's "I Wanna Rock" while at work.
Sammi Cheung's "Mei Fei Se Wu" plays during the end credits.
Visible in Roger's avalanche of outfits are numerous previous outfits.
Translated, "Fung Wah" means "Magnificent Wind", and was the name of a low-cost bus carrier between New York and Boston.[4]
Mickey Mouse appears at the end of the episode; however, in "Familyland", Mikey Muskrat is the analog for Mickey.