American Dad! Panel at Comic Con
Upcoming Episodes
Below is the list of upcoming episodes. All times are Eastern. Watch these then come back to the ADWiki to share your knowledge.
The Old Country airs August 10th, 2020 at 10:00/9:00C on TBS

Steve pushes Stan to trace the Smith family's ancestry, while Hayley and Francine go under cover as Sub Hub secret shoppers.
Businessly Brunette airs August 17th, 2020 at 10:00/9:00C on TBS

Hayley takes off her headband and becomes a businesswoman; Stan plans a party.
Adult Swim
TBS
Recently Aired Episodes
Below is the list of recently aired episodes. Watch or rewatch them again and help contribute more to the ADWiki episode pages.
Roger Needs Dick aired August 3rd, 2020 at 10:00/9:00C on TBS

When one of Roger's characters falls in love with Dick, it affects the whole family.
First, Do No Farm aired July 27th, 2020 at 10:00/9:00C on TBS

Concerned that Hayley is too soft-hearted, Stan attempts to make her "farm tough" by turning the house into an urban homestead.
Fan Boards & Discussion
Active fan boards to discuss American Dad!
Show News
New American Dad! mobile game coming
Saturday, July 20, 2019

According to SyFy, the player, as Stan, attempts to clone Roger in order to save the rest of the family from aliens.[1]
Just how bad was Super Bowl LIII?
February 4, 2019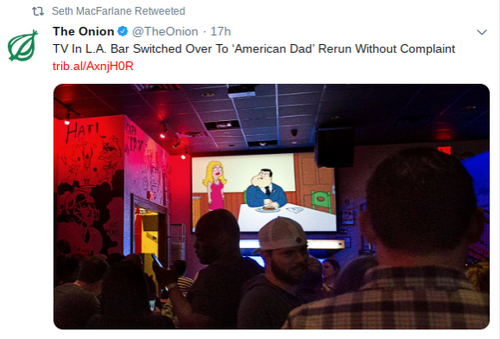 American Dad! to Resume in January 2019
October 6, 2018
At the New York Comic Con, the American Dad! panel reported that the show will be returning in January of 2019 and running off 31 episodes though October. Plots include Snot will be coming into some serious money and Hayley is finally going to graduate from college. Klaus has a whole lot of things coming down the line, including a love story, a fake death and a parody of Pixar's Inside Out. The talking fish will also be joining a nunnery, though in all likelihood that won't go well for him. [2]
American Dad! renewed for two more seasons
January 11, 2018
TBS has renewed American Dad! for two more seasons, leading the way for an hour-long animation block with Final Space, a new show about a prisoner in space.[3]
Hulu to carry complete run of American Dad!
July 19, 2017
Hulu has made a deal with FOX television to carry all episodes of American Dad!, as well as other animated shows such as The Cleveland Show, Bob's Burgers, Futurama and more.[4]
New mobile game coming with American Dad!
Monday, June 27, 2016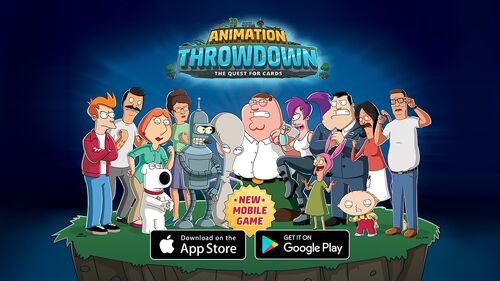 Kongregate & Fox Digital Entertainment have officially announced Animation Throwdown: The Quest for Cards. will be able to combine Roger Smith, Tina Belcher, and the rest of their favorite characters together in the ultimate deck. To see how one of these battles play out just turn your eyes to YouTube, a few testers were generous enough to upload some gameplay video. The game will release in the fall for IOS and Android devices.
American Dad! headed for a fourth TBS season, spearhead of new animation lineup
Wednesday, March 23, 2016
Show creator Matt Weitzman told Variety that the show is under contract for 256 episodes to help TBS launch a new lineup of prime-time animation. This puts the broadcast season count one more than previously announced that should last until 2018.[5]