m

 

Line 11:
Line 11:
 

* Akiko is shown younger in "[[American Dream Factory]]", possibly seven or ten. She then is old enough to be in high school with Steve in "[[Weiner of Our Discontent]]".

 

* Akiko is shown younger in "[[American Dream Factory]]", possibly seven or ten. She then is old enough to be in high school with Steve in "[[Weiner of Our Discontent]]".

 

* In "[[Spelling Bee My Baby]]", Akiko sneaks off with Steve to avoid her mother's intense college preparation, but is kidnapped by [[Francine]] when she thinks that Akiko is trying to sabotage Steve's chances of winning the Spelling Bee Nationals over Akiko. Akiko and Steve patch up their differences and fall in love, each intentionally misspelling their assigned words so neither would win.

 

* In "[[Spelling Bee My Baby]]", Akiko sneaks off with Steve to avoid her mother's intense college preparation, but is kidnapped by [[Francine]] when she thinks that Akiko is trying to sabotage Steve's chances of winning the Spelling Bee Nationals over Akiko. Akiko and Steve patch up their differences and fall in love, each intentionally misspelling their assigned words so neither would win.

−

* She can be seen in the audience of the school talent show with her father and an unidentified Asian youth in "[[The Talented Mr. Dingleberry]]".

+

* She can be seen in the audience of the school talent show with her father and an unidentified Asian youth in "[[The Talented Mr. Dingleberry]]".

 
 
 

==Appearances==

 

==Appearances==

Line 21:
Line 21:
 

* "[[Spelling Bee My Baby]]"

 

* "[[Spelling Bee My Baby]]"

 

* "[[The Talented Mr. Dingleberry]]"

 

* "[[The Talented Mr. Dingleberry]]"

 
+

* "[[Tapped Out]]"

 

[[Category:Recurring Characters]]

 

[[Category:Recurring Characters]]
---
Latest revision as of 23:17, 11 May 2020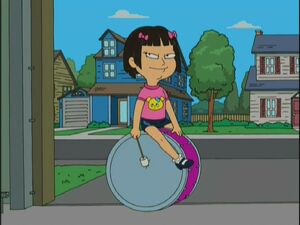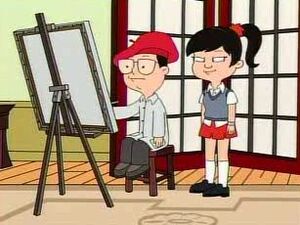 Akiko Yoshida is the younger sister of Toshi Yoshida.
She was silent in "American Dream Factory". Grey DeLisle provided her voice in "Weiner of Our Discontent" and "Shallow Vows", but was replaced by Grace Park starting in "Best Little Horror House in Langley Falls".
Appearances
Community content is available under
CC-BY-SA
unless otherwise noted.