A Star Is Reborn
Stan believes he the reincarnation of a former Hollywood star.

Season: 10 Episode: 13
Total Episode Count: 185
Prod. no.: 9AJN09
First Aired: March 16, 2015

Guest Starring: Mickey Rooney
Featuring: Stan Smith, Francine Smith
Also Appearing: Roger, Steve, Hayley, Joel Larson, Rockin' Ronnie, Leonard Zane, June Rosewood, Maxine, Gloria Delmar, Herv
Director: Rodney Clouden
Assistant Director: Chris Robertson
Writers: Brett Cawley, Robert Maitia
Storyboarders: Eric Fredrickson, Mary Hoffman, Rozlynn Waltz

Roger's Disguise: Puerto Rican Stripper from "The Vacation Goo"

Plot: Stan wins a radio contest for a trip to Los Angeles by cheating with CIA technology. In Hollywood, Francine mistakes the Walk of Fame for a cemetery while Stan belittles the costumed characters that pose for pictures at the Chinese Theatre. When he slips and avoids a fall, his skill is admired by June Rosewood, an old starlet who annually scatters marbles at the theatre in the memory of her late husband Leonard Zane, and asks him out to lunch, so he ditches Francine while she is occupied.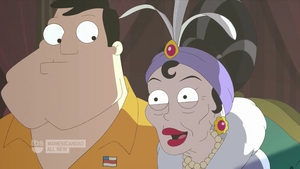 At June's mansion, his taste for hot dogs reminds her of Leonard. She is further reminded by his other tastes and skill at avoiding falls and believes him to be the reincarnation of him and enlists Stan to finish his final film, Marble Trouble. Stan is doubtful until he observes that Leonard wears a flag lapel pin just like his and decides to finish the final film, suddenly believing that he may actually be Leonard reincarnated. Stan moves into the mansion to live Leonard's life, although he finds that they have to convince the producers to finance the film. His attitude succeeds in convincing them that he is the real thing. Francine arrives and he explains what is happening. Refusing to believe in reincarnation, she tries to pull him away but is nearly chased off until the producers decide to use her in Gloria Delmar's part, another actress in the film that has also deceased.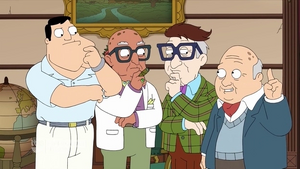 They finish the film and Stan and Francine are ready to return home, but June can't adjust to Stan's departure. When she finds out that Francine is what is holding Stan from staying with her, she has Francine's trailer hauled away, leaving him behind. He rushes to the mansion searching for Francine, but only finds the help trapped, telling him that June went crazy as he finds out that Leonard also nearly ran away with Gloria, the part that Francine took, and discovers that June drowned both her husband and Gloria off the shore of Catalina Island. Stan finds them on a boat at the marina and frees her, although he falls for being doped and they are both dumped at sea. They awake just as June nearly gets the last laugh. Stan points out that he really isn't Leonard, but Francine shoots down his reality by remembering that they really are reincarnated many times over, dying in a similar manner each time. As they kiss, June leaps into the water to drown with her Leonard and Stan and Francine get to the boat, backing over her by accident and killing her. Stan is willing to dismiss what happened but Francine insists that she wasn't making up a story as they sail into the moonlight.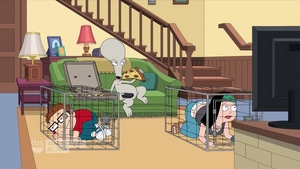 Meanwhile, Hayley deletes an episode of Bones that Roger wanted to watch at home on the DVR and finds Steve less than sympathetic. He tricks them into entering cages and keeps them captive as part of crate training. He subjects them to hours of Bones, despite their protests that it is inhumane. He later finds that crate training was intended for dogs and is insulted by Hayley. But when he takes Steve's docility as a sign that the training has actually worked, he is fooled and is trapped in the cage as Steve deletes his show.