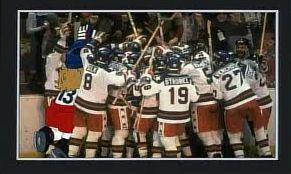 The 1980 Winter Olympics were hosted in Lake Placid, New York. The USA vs USSR game, called the "Miracle on Ice" in the United States, is the best-remembered game of the tournament and the best-remembered international hockey game in the United States. It was the USA's penultimate game of the tournament's round-robin medal round. The USA's final game, against Finland, was the game which won the gold medal for the United States. Finland finished 4th in the overall standings.
Stan tries to use the film Miracle about the 1980 US Hockey team to Brett Morris as proof of God's existence in Kurt Russell's career in "Dope & Faith". The same movie poster appears outside of the movie theater in "The Unbrave One".
The 1980 US Olympic Hockey Team is prominently featured in "The Return of the Bling" when Roger reveals he was part of the team in his persona of Chex LeMeneux. Stan refuses to accept it until Roger takes him to a team reunion at La Quinta Inns and Suites and Stan gets to see his team heroes Jim Craig, Mark Johnson and Michael Eruzione among others.